Scenic Byways
Communities in Maine can seek designation of scenic byways at both the state and national level. Designation as a scenic byway is a way from communities to promote recognized archeological, cultural, historic, natural, recreational and/or scenic qualities located along identified roadways.
The Blackwoods Scenic Byway
The Blackwoods Scenic Byway is located on State Road 182 between the towns of Hancock (in Hancock County) and Cherryfield (in Washington County). It was designated as a Scenic Byway in 2004. WCCOG serves on the Corridor Advisory Group and will be working on ways to integrate the two Byways together as planning for the Bold Coast Scenic Byway progresses.
The Bold Coast-A New Scenic Byway in Coastal Washington County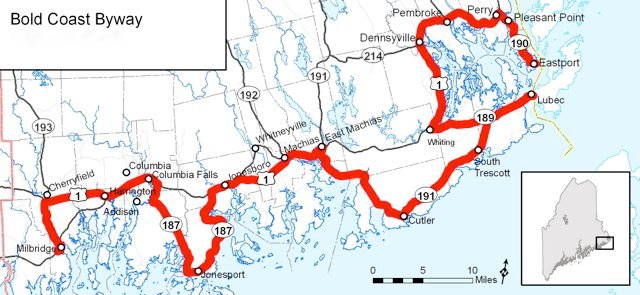 The Bold Coast Scenic Byway is Maine's newest scenic byway that passes through coastal fishing villages and picturesque views of Washington County's rocky coastline, blueberry barrens and expansive tidal flats. The route highlights the unique scenic, cultural and historic attributes of coastal Washington County.
The Byway begins in Milbridge, following Route 1 through Cherryfield, Harrington, Columbia, and Columbia Falls, then turns south onto Route 187 through Addison and Jonesport, rejoining Route 1 in Jonesboro and continuing east through Whitneyville and Machias. In East Machias, the route follows route 191 south through portions of Machiasport, Whiting, Cutler and Trescott before turning east onto 189 in Lubec. The byway route returns along Route 189 to Route 1 in Whiting and then along Route 1 through Edmunds, Dennysville, Pembroke and Perry. It turns right onto Route 190, through Pleasant Point into Eastport. The route ends at the junction of Route 190 (Washington Street) and Water Street in Eastport.
The Eligibility Application that led to the the designation of the Bold Coast Scenic Byway in June of 2011 can be downloaded here: (Full application, PDF 14 MB).
As a Maine Scenic Byway, the WCCOG was eligible to apply for and received a $100,000 grant through the National Scenic Byways Program to develop the Bold Coast Byway Draft Corridor Management Plan. Your comments and suggestions on this work in progress are welcome!
For more information, please contact Crystal Hitchings at (207) 454-0465 or (207) 214-0588.
Frequently Asked Questions
When did we get a new Scenic Byway in Washington County?
Starting several years ago the Washington County Council of Governments (WCCOG) held a series of discussions with the Maine Department of Transportation (Maine DOT), local communities and other interested stakeholders regarding designation of a Scenic Byway in coastal Washington County. In April 2011, the WCCOG prepared and submitted an eligibility application (PDF 14Mb) to the Maine DOT for the Bold Coast Scenic Byway to be considered a Maine Scenic Byway. On June 8, 2011 the Maine DOT formally recognized the Bold Coast Scenic Byway as a Maine Scenic Byway, and installed signs along the byway during the summer of 2011.
Why the "Bold Coast Byway"?
The WCCOG received a lot of feedback on the name for the Byway. Given its large regional scope unanimous consensus on a name was not possible. The "Bold Coast" was chosen because it gives the prospective visitor a sense of what they will find when they visit. It is important to remember that the name should convey the most evocative and appealing description of the Byway to a visitor from another region, another state, or another country. There are many fine distinctions that we make about the place where we live. A visitor might be interested in these distinctions - when they get here - a primary goal of the Byway name is to get those visitors here in the first place.
What does Byway designation mean?
The Maine Scenic Byways program is a voluntary, grass roots, community-based consensus and partnership program administered by the Maine Department of Transportation. It recognizes and supports outstanding roads. It provides resources to help manage the cultural, historical, archeological, recreational, natural and scenic qualities intrinsic to the broader byway corridor to be treasured and shared.
By designating roads as Scenic Byways the host communities seek to identify and conserve intrinsic resources, promote economic development, and provide a mechanism for leveraging funds for improvements.
Designation of the Bold Coast Scenic Byway as a Maine Scenic Byway provides benefits such as inclusion on the State's Scenic Byways map, the Maine DOT's explore Maine webpage, the Maine Office of Tourism webpage and brochures, which in turn can lead to economic development by increasing tourism. In addition, state designation makes the Byway eligible for Federal Scenic Byway grants, which can be used to develop improvements within the Byway corridor such as interpretive materials or facilities, turnouts and parking areas, upgrades to pedestrian and bicycle infrastructure, and funds for administration.
Designation does not hinder the primary purpose of the roadway, which is to move people and goods in a safe and efficient manner. The program is about recognition, not regulation.
It is also important to recognize that Byway designation is voluntary and does not require towns along the Byway to adopt additional zoning or land use regulations. Protection of Byway assets can be accomplished in many ways, through a combination of property owner agreements, easements, and standards for planning board review of proposed developments.
So we have new Scenic Byway ... what comes next?
Once a scenic road is designated in the State Scenic Byway system, stakeholders in the region prepare a Corridor Management Plan for the Byway. WCCOG received grant funds to develop the Corridor Management Plan and have assembled a Corridor Advisory Group. The group is comprised of representatives of all communities through which the byway passes, major land holders, industries, tourism development agencies, chambers of commerce, and interested citizens. The Corridor Advisory Group will identify and prioritize values, and decide how best to preserve these values for the long term future of the Byway.
Once the Corridor Management Plan has been completed and signed by the Commissioner of Maine DOT, it is then presented to the local municipalities and offered for adoption as part of their local comprehensive plans. The Corridor Management Plan is locally developed and reflects the wishes of the Corridor Advisory Group on how best to manage the resources of the Byway. Designation also makes the Bold Coast Scenic Byway part of a larger group of state Byways that have yearly meetings, exchange information and work collaboratively to promote all Maine's Byways.
News Coverage
Channel 5 WCVB TV Boston Chronicle
Four 5-minute video clips aired on September 9th, 2013 as a 1/2 hour television program, produced in July, 2013. Each clip highlights some of the many very special people and places in the Bold Coast Region.
Video #1: http://www.wcvb.com/chronicle/maine-s-bold-coast-hiking-untamed-nature/-/12523032/21864244/-/15fk6avz/-/index.html
Introduction to the Bold Coast Scenic Byway, hiking the Cutler Preserve's Bold Coast Trail, Bonnie and Arnold Pearlman's Crossroads Farm.
Video #2: http://www.wcvb.com/chronicle/Maine-s-Bold-Coast-Blueberry-Country/-/12523032/21864338/-/127apav/-/index.html
Showcasing local foods: Dell and Marie Emerson's Wild Blueberry Land and Jesse and Alva's Kitchen Garden Restaurant.
Video #3: http://www.wcvb.com/chronicle/Maine-s-Bold-Coast-tidal-energy-and-mustard-mill/-/12523032/21864496/-/a6v138z/-/index.html
Innovation and Tradition: The next wave of green energy; making mustard the old fashioned way.
Video # 4: http://www.wcvb.com/.../21864510/-/9kne2yz/-/index.html
Clara Neptune Keezer's award winning baskets
Commissioners support scenic byway plan,
Bangor Daily News, May 10, 2010
Funding to help create scenic byways to attract tourist dollars to St John Valley, MDI
Bangor Daily News, April 28, 2011
Maine Scenic Byways offer attractions made by Mother Nature
Bangor Daily News, August 29, 2011
Group to tour Grindstone Scenic Byway on Monday
Bangor Daily News, September 9, 2011